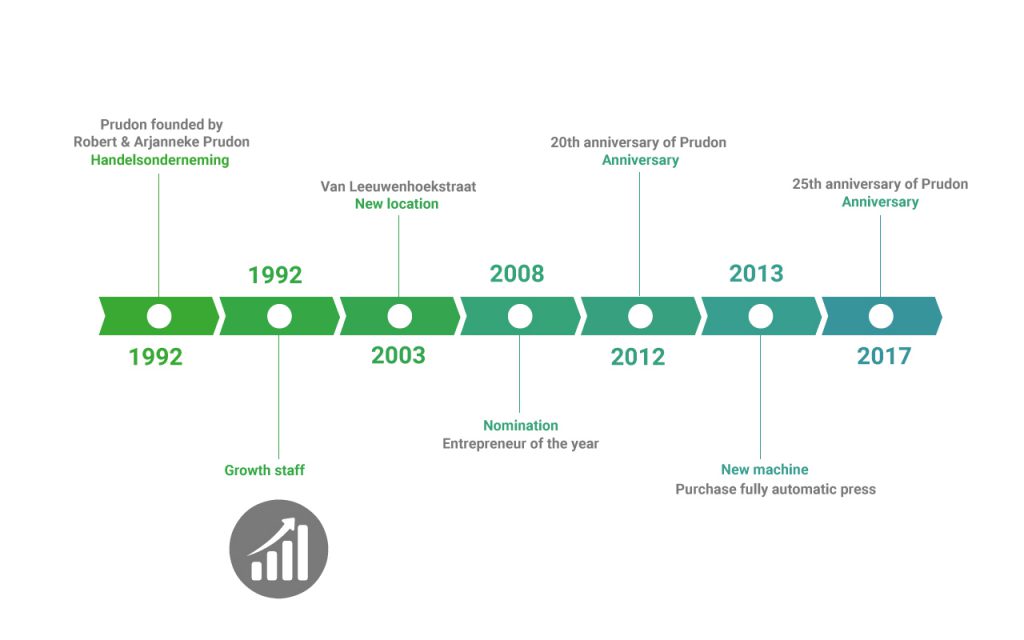 1992
Plastic Recycling Prudon BV is founded by Robert and Arjanneke Prudon under the name 'Handelsonderneming Prudon'.
Prior to that, Robert Prudon worked for five years for a recycling company that was involved in PVC recycling. After the bankruptcy of that company, Robert Prudon founded his own company. Everything started from an attic room. With the help of fine entrepreneurs, a good accountant, a healthy company was set up and Handelsonderneming Prudon started the growth.
1993
The second employee is assumed.
1994
The Trading Company will be converted to a Private Limited Company under the name Plastic Recycling Prudon BV.
1996
A new house is being built with a large basement under the house. From this basement Plastic Recycling Prudon BV developed, and the third employee was hired. 
2002
Purchase of a piece of industrial site in the industrial area 'Lorentz' in Harderwijk.
2003
The current business premises will be realized. Total area is 5,500 m2 of which 2,100 m2 is built. The company building has a 60 tonne outdoor weighbridge and a 40 tonne weighbridge. So that all incoming and outgoing loads can be weighed. These weighbridges are checked annually and calibrated.
2004
The new construction of a third warehouse of more than 1,000 m2 will be realized so that the total built area will exceed 3,000 m2. This is due to the great need for more storage space for plastic.
2006
Skar Merchandising BV is established together with a Chinese business relationship. This company focuses on the import of plastic-related products from Asia to Europe.
2008
Plastic Recycling Prudon BV is nominated for 'entrepreneur of the year' by the municipality of Harderwijk.
2009
Purchase half automatic BOA press.
2010
Prudon has 10 employees
2011
Our own loading and unloading platform is realized at warehouse 3, in order to be able to work as flexibly as possible with this warehouse.
2012
The 20th anniversary of Plastic Recycling Prudon BV is being celebrated. We are very proud of this achievement.
2013
A fully automatic HSM VK2012 plastic press is purchased to be able to accept every plastic flow as flexibly as possible. It is also possible to press every loose load of plastic into bales.
2013
Purchase full automatic press.
2015
Plastic Recycling Prudon BV has continued to grow over the years. 
2017
25th anniversary